The journey to creating the perfect bridal look is an intricate dance of personal style, cultural traditions, and practical considerations. Among the myriad decisions to be made, none is more delicate than choosing the right hairstyle to seamlessly integrate with your veil and headpiece. Whether you envision a timeless and elegant ensemble or a more contemporary and unique flair, the marriage of hairstyle and accessories is a pivotal aspect of your wedding day. From classic updos to boho waves, from traditional tiaras to floral crowns, we'll explore the art of balancing aesthetics, tradition, and comfort, ensuring that your bridal hairdo is a magnificent embodiment of your love story and individuality.
Complementary Hairstyles for Different Veil and Headpiece Types
When it comes to your wedding day, the harmony between your chosen hairstyle and the veil or headpiece you wear is crucial for achieving that picture-perfect bridal look. Let's explore a variety of hairstyles that perfectly complement different types of veils and headpieces, ensuring that every element of your ensemble is flawlessly intertwined.
Veil Hairstyles
Classic Updos: The timeless elegance of a bun, chignon, or French twist provides a perfect backdrop for a flowing veil. These sophisticated updos create a focal point at the nape of the neck, allowing the veil to cascade gracefully.
Half-Up, Half-Down Styles: Soft waves, curls, and intricate braids in a half-up, half-down configuration strike a balance between formal and relaxed. This style is ideal for attaching shorter veils, like fingertip veils, while leaving your hair partially exposed.
Loose and Textured Styles: For a boho-chic vibe, consider a loose bun or a messy bun adorned with a veil. These styles harmonize beautifully with ethereal and more intricate veils, like cathedral or mantilla veils.
Headpiece Hairstyles
Elegant Updos with Crowns or Tiaras: An updo paired with a crown or tiara exudes regal elegance. Whether you're opting for a crystal-encrusted tiara or a delicate crown, these headpieces embellish sophisticated updos with a touch of royalty.
Romantic Styles with Flower Crowns: Flower crowns complement whimsical and outdoor settings. Adorn your hair with a floral crown that echoes the colors of your bouquet, creating a seamless and enchanting look.
Incorporating Hairpins and Combs into Intricate Braids: Intricately braided hairstyles provide a canvas for incorporating decorative hairpins and combs. These accessories add subtle sparkle to your hair and can secure shorter veils in place.
Finding the Perfect Balance
The key to achieving the ideal bridal look lies in finding the balance between your chosen hairstyle and the veil or headpiece. Consider the intricacy of your accessory, the style of your dress, and the overall ambiance of your wedding. Your hairstyle should enhance, not overpower, your veil or headpiece, resulting in a cohesive and breathtaking ensemble that reflects your unique style and celebrates your momentous day.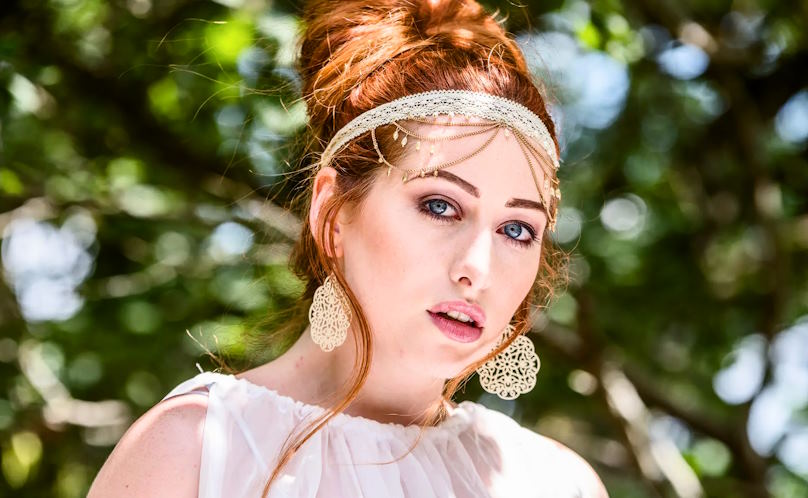 Tips for a Seamless Integration
Creating a flawless bridal look involves meticulous attention to detail, especially when it comes to integrating your veil and headpiece with your chosen hairstyle. Let's dive into some essential tips that ensure a seamless and stunning ensemble on your special day.
Secure Attachment Methods for Veils and Headpieces
Choosing the right attachment method for your veil and headpiece is paramount. For veils, consider metal combs, clips, or even sewn-in loops that work harmoniously with your hairstyle. Headpieces like tiaras and crowns often have combs that can anchor them securely in place.
Using Hairpins, Bobby Pins, and Hidden Elastics Effectively
Hairpins and bobby pins are your best allies in keeping everything in place. Opt for hairpins that match your hair color, and strategically position them to secure your veil or headpiece without compromising your chosen hairstyle. Hidden elastics can be used to anchor headpieces or hold your hair in place while keeping a natural appearance.
The Importance of a Trial Run: Rehearsing the Entire Look
Undoubtedly, a trial run is a must-do before your wedding day. Schedule a hair and veil trial where you can test different styles, attachment methods, and positions. This rehearsal ensures that you and your stylist are on the same page and allows you to make any necessary adjustments for comfort and aesthetics.