In a world where wedding traditions are continually evolving, brides are breaking free from the constraints of convention to craft their own unique stories. Enter the realm of bridal separates, a trend that has taken the wedding industry by storm, offering modern brides a canvas to paint their own individuality and style onto their special day. Gone are the days of the one-size-fits-all wedding dresses; instead, the art of mixing and matching various pieces has emerged as a captivating alternative.
Exploring Bridal Separates: A Symphony of Style and Individuality
When it comes to crafting a wedding look that speaks volumes about your personality, bridal separates offer an enchanting route to artistic self-expression. From elegant tops and blouses to captivating bottoms and skirts, and even the whimsical addition of overlays and outerwear, the world of bridal separates invites you to curate a one-of-a-kind ensemble that resonates with your unique vision.
Tops and Blouses
Crop Tops and Lace Tops: Embrace a contemporary twist on tradition with crop tops that showcase a hint of skin, or indulge in the timeless allure of lace tops that infuse romance into your look.
Embellishments and Textures: Elevate your ensemble with intricate embellishments, from delicate beadwork to dazzling sequins, and explore textures that add depth and dimension.
Long-Sleeved and Off-Shoulder Options: Play with different sleeve lengths for a touch of elegance; opt for long sleeves for a classic look or go daring with an off-shoulder design that exudes confidence.

Bottoms and Skirts
Flowing Skirts and Layered Tulle: Walk down the aisle in a dreamy manner with flowing skirts that create an ethereal movement, or embrace the charm of layered tulle for a fairy-tale-like silhouette.
High-Low and Asymmetrical Hemlines: Break away from the ordinary with high-low hemlines that offer a contemporary edge, or experiment with asymmetrical cuts for an avant-garde touch.
Pantsuits and Tailored Trousers: Redefine bridal elegance by donning pantsuits or tailored trousers that exude sophistication, perfect for the modern bride seeking comfort without compromising style.
Overlays and Outerwear
Sheer Overlays and Lace Toppers: Add an enchanting layer with sheer overlays that gently veil your gown, or opt for lace toppers that infuse intricate patterns and grace.
Embroidered Jackets and Boleros: Embrace ornate elegance with embroidered jackets that add a layer of opulence, or consider boleros for a dash of vintage charm.
Capes and Shawls for Drama: Elevate your presence with the dramatic allure of capes and shawls, an attention-commanding addition that exudes a regal essence.
Tips for Successful Mixing and Matching: Crafting Your Perfect Bridal Ensemble
The art of mixing and matching bridal separates offers an avenue for you to curate a wedding day look that is uniquely yours. To ensure a harmonious and visually stunning ensemble, consider these essential tips that will transform your bridal vision into a reality.
Establishing a Cohesive Theme or Style
Begin by defining a cohesive theme or style that reflects your personality and wedding vision. Whether it's bohemian elegance, vintage romance, or modern minimalism, having a clear theme will guide your choices and maintain a consistent aesthetic throughout your ensemble.
Balancing Intricate Pieces with Simpler Counterparts
While it's tempting to go all-out with embellishments and details, striking the right balance is key. Pair ornate pieces with simpler counterparts to prevent overwhelming the overall look. For instance, if you're adorning an intricately designed top, opt for a more understated skirt or bottom to maintain a refined equilibrium.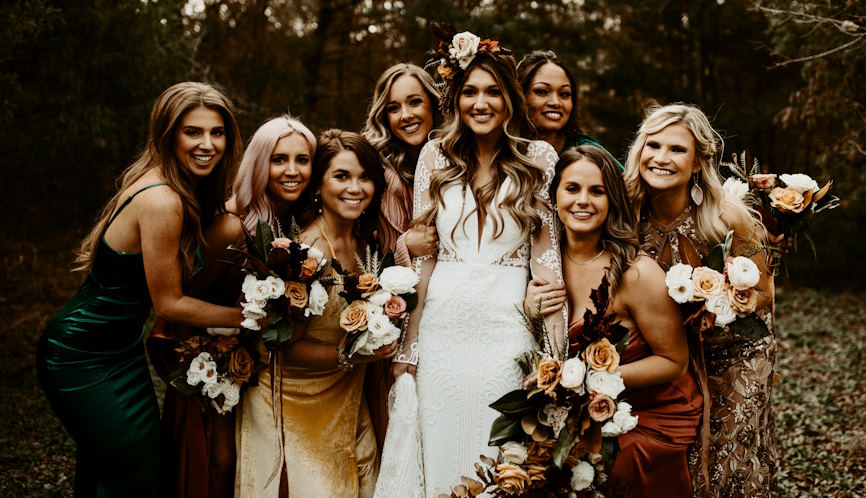 Breaking Tradition: Bridal Separates for the Modern, Comfort-Seeking, and Budget-Conscious Brides
In a world of ever-evolving wedding trends, the realm of bridal fashion has witnessed a paradigm shift, with brides increasingly opting for unconventional choices that reflect their individuality and preferences. Bridal separates, a captivating departure from the traditional wedding gown, have emerged as a dynamic option that resonates with three distinct groups: modern brides seeking non-traditional styles, those yearning for comfort without compromising elegance, and budget-conscious brides looking for reusability.
Modern Brides Seeking Non-Traditional Styles
For brides who long to make a bold statement on their big day, bridal separates offer a canvas to paint their unique narratives. These pieces allow modern brides to break away from the conventional norms, exploring innovative combinations that reflect their personalities and match the contemporary aesthetics they adore.
Those Desiring Comfort Without Sacrificing Elegance
Comfort and elegance need not be at odds with each other. Bridal separates present a solution for brides who wish to glide down the aisle in comfort while maintaining an air of sophistication. From flowing skirts to tailored trousers, these choices provide freedom of movement without compromising on the elegant charm every bride deserves.
Budget-Conscious Brides Looking for Reusability
Wedding expenses can be overwhelming, prompting budget-conscious brides to seek versatile options that stretch beyond the wedding day. Bridal separates offer a practical solution, as they can be reconfigured and reimagined for future occasions, granting these brides not only a stunning wedding day look but also an investment in a versatile wardrobe.