In the realm of bridal beauty, where trends ebb and flow like the tides, there exists a time-honored element that continues to defy the shifting sands of fashion: the classic red lip. A symbol of allure, confidence, and timeless elegance, the red lip has stood as a steadfast beacon of beauty through the ages. Beyond its vibrant hue, the red lip encapsulates a sense of tradition, sophistication, and individuality. Whether you're drawn to vintage allure, contemporary chic, or something in between, the classic red lip holds the power to elevate your bridal look and make a resounding statement. Join us as we explore the steps, tips, and inspirations to confidently pull off this enduringly enchanting look on your most special day.
Creating the Perfect Red Lip
A flawless red lip requires more than just the right shade; it demands a step-by-step process that involves precision, technique, and a dash of artistry. Here's a breakdown of how to achieve the perfect red lip that will grace your wedding day with its timeless allure.
Step-by-Step Application Process:
Priming the Lips: Begin by ensuring your lips are smooth and well-hydrated. Gently exfoliate to remove any dryness, then apply a moisturizing lip balm. This step provides the foundation for a smooth and even application.
Applying Lip Liner: Choose a lip liner that matches your red lipstick or is slightly darker. Start by outlining the cupid's bow, then work your way along the natural lip line. To enhance lip shape, slightly overline if desired. This step not only defines the lips but also prevents the lipstick from feathering.
Applying the Red Lipstick: Using a lip brush or directly from the bullet, apply the red lipstick within the lip liner's boundaries. For precision, start from the center and work towards the edges. Blot the lips together to distribute the color evenly.
Blotting and Reapplying: To enhance longevity, place a tissue over your lips and gently press translucent powder through it. This sets the color and removes excess moisture. Apply another layer of lipstick and repeat the blotting process.
Selecting the Right Finish:
Choose a finish that complements your overall bridal aesthetic. Matte finishes exude sophistication, gloss provides a touch of glam, and satin strikes a balance between the two. Consider your dress style and wedding theme to make the best choice.
Touch-Up Tips for the Wedding Day:
Carry your chosen lipstick shade, a lip brush, and a compact mirror for touch-ups. Blot with a tissue before reapplying to prevent buildup. For a quick refresher, add a thin layer of lip balm before reapplying lipstick.
Harmonizing the Red Lip with the Bridal Look
The classic red lip holds the power to captivate, but achieving a harmonious balance within your overall bridal look is key to its success. Here's how to seamlessly integrate this timeless element into your wedding ensemble.
Choosing Complementary Makeup:
When paired with a red lip, less is often more. Opt for soft, neutral eyes with a hint of shimmer to draw attention without overwhelming. A subtle cat-eye or well-defined lashes can add a touch of drama. Ensure your skin has a radiant glow with a dewy foundation and a gentle application of blush to accentuate your natural flush.
Coordinating with the Wedding Theme and Color Scheme:
Your wedding theme and color palette should guide your makeup choices. For a romantic theme, blush tones on the eyes and cheeks can complement the red lip beautifully. If your wedding is more vibrant and colorful, consider incorporating subtle hints of the theme's colors in your eye makeup while keeping the lips the focal point.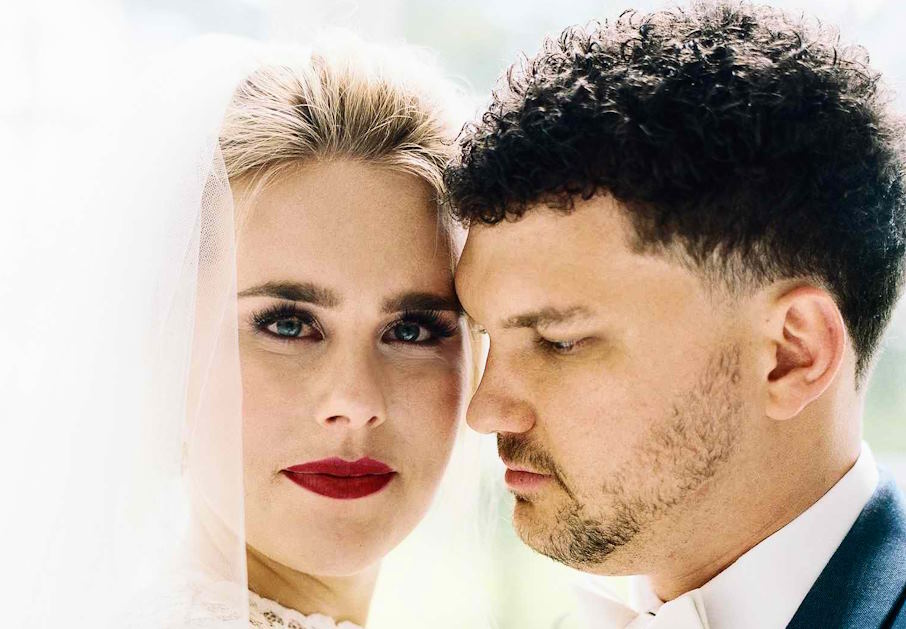 Red Lips for Different Skin Tones
The allure of a red lip transcends skin tones, and discovering the perfect shade can make all the difference for brides of every complexion. Here's how to select a red lip that harmonizes with your unique beauty.
Finding the Perfect Red for Different Skin Tones:
For fair skin, opt for blue-based reds like true red or cherry red. These shades create a striking contrast and enhance the porcelain beauty. Medium skin tones can explore a wider range, from classic reds to warm brick reds. Deeper skin tones radiate with rich, deep reds like burgundy or berry tones that create a captivating contrast.
Adjusting Undertones for a Harmonious Look:
Consider your undertones when selecting a red lip shade. If you have cool undertones, blue-based reds will enhance your complexion. Warm undertones complement warm reds with orange or coral undertones. Neutral undertones offer versatility, allowing you to experiment with various red shades.